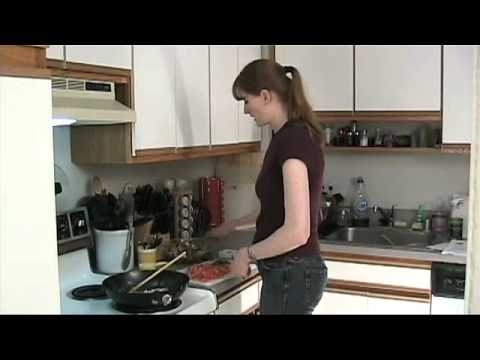 Eggplant Curry
Serves: 4
Difficulty: Easy
Prep Time: 5 minutes
Cook Time: 45 minutes
Eggplant never tasted better! Even non-eggplant lovers will eat this recipe!
1 large eggplant
2 tablespoons vegetable oil
1 teaspoon cumin seeds or ground cumin
1 medium onion, thinly sliced
3 cloves minced garlic
1 tablespoon grated fresh ginger
1 tablespoon curry powder
2 tomatoes, diced
1/2 cup coconut milk
1 fresh jalapeno chile pepper, finely chopped
1 teaspoon salt
1/4 bunch cilantro, finely chopped (optional)
Preheat oven to 450 degrees F (230 degrees C). Cut the eggplant in half and place it cut side down on a medium baking sheet. Bake 15 to 20 minutes in the preheated oven, until tender. Remove from heat, cool, peel, and chop. Heat oil in a medium saucepan over medium heat. Mix in cumin and onion. Cook and stir until onion is tender.
Mix garlic, ginger, curry powder, and tomatoes into the saucepan, and cook about 1 minute. Stir in coconut milk. Mix in eggplant and jalapeno pepper, and season with salt. Cover, and cook 10 minutes over medium-high heat, stirring occasionally to avoid burning. Remove cover, reduce heat to low, and continue cooking about 5 minutes. Garnish with cilantro to serve.
Notes
Try some carrots, green beans, zucchini or other veggies to add color and texture to this yummy curry!
Omit the coconut milk if you don't have any on hand.
Parsley instead of cilantro might be a nice change.
8 Comments
Leave a comment